Buy in Bulk
By shopping in bulk at places like Costco or Sam's you will be able to save more

money. Buying alcohol (if you're of legal age of course), cereal, dried beans, and toiletries. When bulk shopping for food, keep in mind to avoid buying anything that will expire or spoil before you have a chance you use it. Rice and canned goods are good examples.
Use Coupons, Deals, Weekly Ads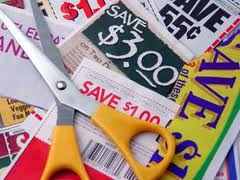 Many stores like Publix or Kroger grocery stores, offer in store coupons, weekly ads, and manufacturer coupons. By combining these offers, you are guaranteed to save money while shopping.
Prepare List before you shop
By preparing a list of goods before you shop, you are less likely to pick up items that you already have at home or items that you don't need. Sticking to your shopping list and your budget will help decrease your spending while shopping. Katherine Tallmadge, RD, says, "Take inventory of what you have on hand so you don't overbuy. Create a detailed shopping list based on your needs and weekly menu plan, and take into account how you plan on using leftovers." Also, it helps to have a light snack before shopping.