A Schnucks Weekly Ad is an effective tool to become a smart grocery shopper. You just have to keep these tips in mind and start going to work, so to speak, on them.
#1 Keep a Stockpile
You should take advantage of extra-cheap sales prices especially for non-perishable items, grocery items with long shelf lives, and fresh produce for preservation (e.g., pickles and jams). Indeed, when the price is right for an item, you should stock up on it so that you will always have it when you need it, perhaps even make bigger contributions to food banks and charities.
When should you stockpile a product? It depends on the type of product although the rule of thumb is stock up when its price is at least 70% off its original retail price.
You can stock up on body wash, deodorant and toothpaste when these are 50 cents or less especially for branded products. You can get many items for your stockpile by stacking coupons, too.
#2 Stock Up on Seasonal Items
Most items in season, such as nuts, candies and chocolate chips in November and December, are sold at substantial discounts. You should stock up on these items, too, since your savings can be as much as 70%! You should combine the sales prices with coupons, which means more items for less money.
#3 Compare Unit Pricing
Aside from the use of coupons, you should compare products based on their unit price instead of just the total retail cost.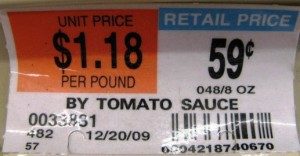 If you will look closely, the store will usually indicate cost by individual pieces, by weight, and even by the case. You can then compare whether you will be able to save more by buying in bulk (i.e., case) instead of in individual pieces.
Your vigilance in these matters will translate to hundreds of dollars in savings in a year, which you can then place in your college fund or retirement fund.