Five Below has certainly been making inroads into the industry! The chain of discount stores may not be making its competitors quake in their boots but it has been enjoying successes in its market. Here are a few ways that the corporation has been making its presence felt.
Dramatic Entrances
You can't accuse the chain of being a lame duck when it comes to making an entrance because its flair for dramatic entrances have attracted the attention of its eager audience. In its Houston store opening, for example, the chain also opened eight stores within a single day in several locations.
It also advertised 5-cent hot dogs and gave away free T-shirts and $100 gift cards, which have become a tradition for its store openings.
And the chain shows no sign of stopping either. Tom Vellios, its co-founder and chief executive officer who has been described as a kid at heart, has been opening the chain's colorful stores across dozens of new locations every year. Every single one of these stores sell products costing less than $5, from indoor play sand to candies, stationeries, and iPhone covers.
Teen and Tweens as the Target Market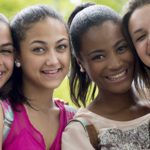 If you think that the product lines are for the young market, then you're right. The chain's main target market are teen and tweens, which studies have shown are increasingly becoming influential in their purchasing decisions. The booming sales are, indeed, proof of such purchasing power, even when teens and tweens are largely dependent on their parents' income.
When you enter a Five Below store, your first impression will be rows upon rows of colorful products spread out over 7,500-square feet of space. You won't find basic necessities here because of the chain caters to the worldly yet wholesome needs of teens and tweens, thus, the eight category worlds, namely, media, crafts, sports, candy, crafts, room, style, and now (i.e., seasonal products).
Your teens and tweens will love the highly discretionary nature of these products and, thus, scoop them up like candy lovers in a candy store. You, as the responsible adult who has to pay for their purchases, must bring along weekly ads to cover part of the costs. You can also take advantage of in-store promotions to reduce costs.
And speaking of products, the chain has several products that provide the best value for the money, especially when coupled with the weekly ads. These include candy, case protectors, flip flops and water shoes, sports balls, and greeting cards.