With the right Ride Aid Weekly Ad in your hands, you can enjoy substantial savings on your drugstore purchases. Here are a few things that you must know in order to get it right always.
Check the Weekly Matchups
You should always be diligent about checking the weekly matchups, which provide information about the items on sale and the coupons available for these on-sale items. Be sure to look at the final price since it's the best possible price after the coupons and +Ups are applied.
Use the +Ups Program
Yet another way to save at Rite Aid is the +Ups program, which is available on certain purchases. These are rewards earned by buying specific items with the +Ups credited to your Wellness+ card, which you can use on your next purchases specifically after 6 in the morning the day after the purchase.
Keep in mind that the +Ups rewards will expire two weeks after these have been earned and added to your Wellness+ card. You have to use them and generate more savings.
Stack Manufacturers' Coupons
The easiest way to get more savings from Rite Aid's weekly ads is to stack them with manufacturers' coupons since stacking means more discounts. You can stack in-ad coupons, Rite Aid Video Values, and special in-store coupon booklets for this purpose.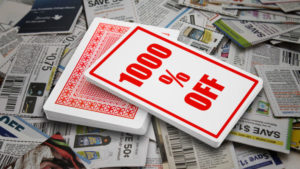 You can only stack one manufacturer's coupon with one store coupon for a single item.
You have to be diligent about double-checking your sales receipt since your +Ups will be affected by incorrect prices. You can request the cashier or manager to correct errors before leaving the store although you can also call customer service for this purpose.
Of course, you will make a few mistakes in using the weekly ads and availing of the rewards programs on your first few tries. You shouldn't be discouraged as you will soon get the hang of it and, in the process, increase your savings!